"If there's one person I'd trust to take on a difficult build, it's Mateo - all day long!" - Khrii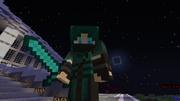 Khrii quickly gained notoriety, both because she was single handedly winning the war against dirt shanty hut-builds and also because of her pleasant personality. She never backed down from a challenging build, and she is one of the notably gifted builders on Delniqi. Her services were soon requested by Kungming2 to help build several landmarks in Asteripolis, however when working on her second project she caught a case of the 'bad chunk'.
Now she spends her time working on Eos the future capital of Delniqi. If you ever want to say hi or simply pop in for a peek feel free to drop her a tpa.
Khrii initially belongs to a private server owned by her brother Typirious. There she design and build modern buildings with her friend Thertrii and her biological father. Typirious on the other hand builds steam punk and joined DelNiQi in the Summer of 2012.