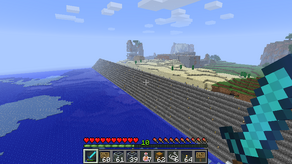 Nireon's Pyramid has been a mystery to the players of Delniqi ever since the server went public. Because of its imense size and perpetual incompleteness it was anyone's best guess as to what it was or who built it. With the old height limit the pyramid would never actually reach an apex, an inherent design flaw that Nireon corrected by stating it would be a flat-topped pyramid. However, because Nireon had a hard time existing, it was too much of an effort for him to complete such a large project. The pyramid is still unfinished to this day.
The pyramid has one of the server's first rail-transport system used to travel throughout the massive structure. Inside is not much more than huge hallways seperated by storage rooms consisting of chests, beds, and furnaces. The structure is made almost entirely of cobblestone, the excess of which Nireon used to trade Kung for diamonds. kungming2 also used the center desert as a huge mining ground for Selinipolis sandstone.
Currently the pyramid can be found in all it's incompleteness directly north of Metropolis. The center of this pyramid consists of desert biome and is now used as a graveyard of old builds which include the Old Metropolis Train Station and Bellanotte's Castle.