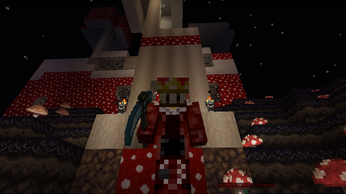 "I am Tyrant9 The mushroom king and lord of despair... I mean mushrooms. Not despair. Do not despair for my mushrooms will lead you from it... except the ones I purposely give you to kill you. But other than that you shall be fine!"
Tyrant9 is a very loving Mushroom King, it is known that he spreads his loving spores as blessing to all Del Ni Qi players. However, he did had to jail a couple of derps who went out of line, to those derps, they receive no love from this King.

His styles of build consist of .... mushrooms and nautral living habitats in many locations of the server. Tyrant9 is the only known player who had genetically mutated mushroom growth and created a rare kind of Blue Mushrooms.

It is known that around December of 2011, Traynt9 and Emptyminded became "Brothas from Otha Motha".